Capt'n Franks Hot Dogs
Kitty Hawk, NC  –  MP 4.5  –  Since 1975
Captn's Store
T-shirts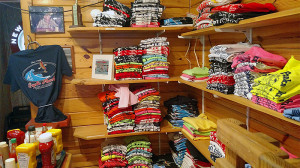 Capt'n Franks Hot Dogs
Welcome to Capt'n Franks, where, since 1975, "it's always been about the dog!"
Capt'n Franks is of course about great Hot Dogs, but we are also about the Hot Dog experience.
Our Philosophy and our entire staff is about making your meal here an experience that will bring a smile to your face and great food to your table. While we are very proud of our fast and friendly service, we want you to know that the food that comes to you from our grill and kitchen, is the very best that we can make, buy and prepare. We make our own "all beef chili" from our decades old recipe, and that delicious hand pulled pork BBQ will make your mouth water. We decided a couple years ago to also make our own recipe Hot Dog which produced our now famous "Snap Dog", dressed any way you like it from a long list of toppings.
Our name has a great ring to it when talking hot dogs, and the Franks is for frankfurters, just in case you were wondering.
Enjoy your meal and let our friendly staff add a smile to your day!
Thanks for visiting,
Capt'n Frank